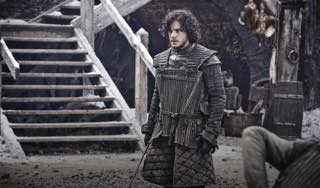 Game of Thrones
®
season 1 episode 3
Game of Thrones
®
season 1 episode 3
Ned finally takes up his role at the side of the King, but struggles to deal with the political power games of the monarch's cunning advisers. The weary Lord is asked to organise a tournament, but finds the royal finances in a dire state and his job is made even harder by troubling news from home.
Meanwhile, Tyrion's visit to the Wall reveals the men of the Night's Watch the Wall are in desperate need of reinforcement, and relations between Daenerys and Viserys become increasingly strained. Fantasy drama, starring Sean Bean and Mark Addy.
Click below to discover more season 1 episodes
More like Game of Thrones®
Streaming until 13 Nov 2017

Streaming until 31 Jan 2022

Streaming until 30 Nov 2017
Westworld

Westworld

Streaming until 13 Nov 2017

From JJ Abrams and Jonathan Nolan comes the Emmy-nominated dark sci-fi epic Westworld. Starring Anthony Hopkins and Ed Harris, prepare for a trip unlike any other.

The Young Pope

The Young Pope

Streaming until 31 Jan 2022

Sky Atlantic and Academy Award-winning director Paolo Sorrentino present a landmark series starring Jude Law as the first American pope and his struggle to establish his papacy.

Deadwood

Deadwood

Streaming until 30 Nov 2017

Timothy Olyphant and Ian McShane star in the uncompromising western, where a diverse assembly of civilians, entrepreneurs and low-life outlaws look for a new life in the lawless town of Deadwood.