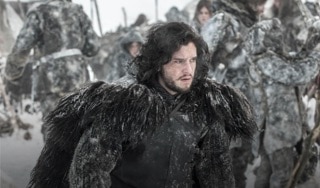 Game of Thrones
®
season 3 episode 1
Game of Thrones
®
season 3 episode 1
In King's Landing, Sansa grows in confidence under the watchful eye of the Machiavellian Lord Baelish, while Tyrion is after his just reward for the part he played in the Battle of the Blackwater.
In the far North, Jon Snow is brought before formidable wildling leader Mance Rayder (Ciaran Hinds) and attempts to earn the trust of the King-beyond-the-Wall.
Across the Narrow Sea, Daenerys Targaryen arrives in Slaver's Bay with adviser Ser Jorah Mormont looking to form an army. Starring Peter Dinklage, Emilia Clarke and Kit Harington.
Click below to discover more season 3 episodes
More like Game of Thrones®
Streaming until 13 Nov 2017

Streaming until 31 Jan 2022

Streaming until 30 Nov 2017
Westworld

Westworld

Streaming until 13 Nov 2017

From JJ Abrams and Jonathan Nolan comes the Emmy-nominated dark sci-fi epic Westworld. Starring Anthony Hopkins and Ed Harris, prepare for a trip unlike any other.

The Young Pope

The Young Pope

Streaming until 31 Jan 2022

Sky Atlantic and Academy Award-winning director Paolo Sorrentino present a landmark series starring Jude Law as the first American pope and his struggle to establish his papacy.

Deadwood

Deadwood

Streaming until 30 Nov 2017

Timothy Olyphant and Ian McShane star in the uncompromising western, where a diverse assembly of civilians, entrepreneurs and low-life outlaws look for a new life in the lawless town of Deadwood.