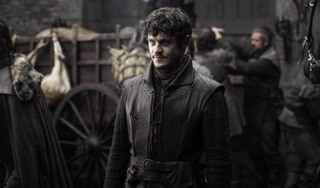 Game of Thrones
®
season 4 episode 2
Game of Thrones
®
season 4 episode 2
In King's Landing, the day of King Joffrey's wedding to Margaery Tyrell arrives, and while the sadistic monarch delights in tormenting his uncle Tyrion, the capital's various factions plot further alliances. However, all attention is drawn back to Joffrey following the arrival of a pie filled with live birds.
Meanwhile, Melisandre oversees a sacrifice to the Lord of Light at Dragonstone as three traitors are burned at the stake, and the future continues to look grim for Theon as Ramsay Snow finds a use for him.
North of the Wall, Bran sees clearly where he and his friends must go after experiencing a series of visions.
Click below to discover more season 4 episodes
More like Game of Thrones®
Streaming until 13 Nov 2017

Streaming until 31 Jan 2022

Streaming until 30 Nov 2017
Westworld

Westworld

Streaming until 13 Nov 2017

From JJ Abrams and Jonathan Nolan comes the Emmy-nominated dark sci-fi epic Westworld. Starring Anthony Hopkins and Ed Harris, prepare for a trip unlike any other.

The Young Pope

The Young Pope

Streaming until 31 Jan 2022

Sky Atlantic and Academy Award-winning director Paolo Sorrentino present a landmark series starring Jude Law as the first American pope and his struggle to establish his papacy.

Deadwood

Deadwood

Streaming until 30 Nov 2017

Timothy Olyphant and Ian McShane star in the uncompromising western, where a diverse assembly of civilians, entrepreneurs and low-life outlaws look for a new life in the lawless town of Deadwood.