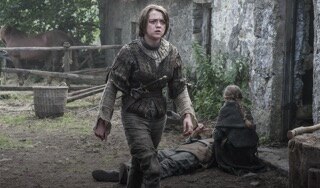 Game of Thrones
®
season 4 episode 3
Game of Thrones
®
season 4 episode 3
Ser Dontos spirits Sansa out of King's Landing and rows her out to a waiting ship, and Pod gives Tyrion news of his forthcoming trial.
Tywin counsels Tommen on what makes a good king and also has an offer for Oberyn Martell. Sam decides Castle Black is not a safe places for Gilly, while Jon proposes a bold plan after the wildlings send a chilling message.
Across the Narrow Sea, Daenerys picks a champion to take on the best that Meereen has to offer and Davos has an idea about raising funds for Stannis's cause.
Click below to discover more season 4 episodes
More like Game of Thrones®
Streaming until 13 Nov 2017

Streaming until 31 Jan 2022

Streaming until 30 Nov 2017
Westworld

Westworld

Streaming until 13 Nov 2017

From JJ Abrams and Jonathan Nolan comes the Emmy-nominated dark sci-fi epic Westworld. Starring Anthony Hopkins and Ed Harris, prepare for a trip unlike any other.

The Young Pope

The Young Pope

Streaming until 31 Jan 2022

Sky Atlantic and Academy Award-winning director Paolo Sorrentino present a landmark series starring Jude Law as the first American pope and his struggle to establish his papacy.

Deadwood

Deadwood

Streaming until 30 Nov 2017

Timothy Olyphant and Ian McShane star in the uncompromising western, where a diverse assembly of civilians, entrepreneurs and low-life outlaws look for a new life in the lawless town of Deadwood.