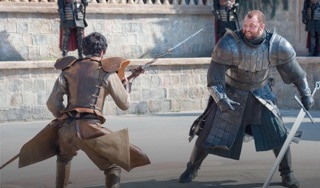 Game of Thrones
®
season 4 episode 8
Game of Thrones
®
season 4 episode 8
The Mountain and the Viper
Tyrion's fate is decided as his champion Oberyn Martell comes up against Gregor 'the Mountain' Clegane in his trial by combat, while Mole's Town is on the receiving end of a raid by the wildlings.
Ramsay sends Theon into Moat Cailin to negotiate the surrender of the Ironborn troops holding the fort, Littlefinger and Sansa are questioned about the circumstances surrounding Lysa's death and Barristan confronts Jorah about a document delivered to him. Fantasy drama, starring Peter Dinklage and Pedro Pascal.
Click below to discover more season 4 episodes
More like Game of Thrones®
Available until 31 Jan 2022

Available until 30 Nov 2017

Available until 23 Aug 2017
The Young Pope

The Young Pope

Available until 31 Jan 2022

Sky Atlantic and Academy Award-winning director Paolo Sorrentino present a landmark series starring Jude Law as the first American pope and his struggle to establish his papacy.

Deadwood

Deadwood

Available until 30 Nov 2017

Timothy Olyphant and Ian McShane star in the uncompromising western, where a diverse assembly of civilians, entrepreneurs and low-life outlaws look for a new life in the lawless town of Deadwood.

Thronecast

Thronecast

Available until 23 Aug 2017

Sue Perkins hosts the companion show to Game of Thrones. With a complement of celebrity guests and superfans, we review, digest and relive the latest goings-on in Westeros.