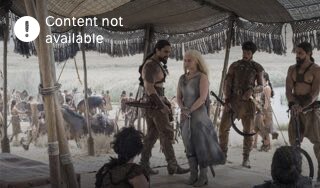 Game of Thrones
®
season 6
Game of Thrones
®
season 6
Watch Game of Thrones® season 6 on NOW TV until 16 August 2017
Watch Game of Thrones® season 6 on NOW TV until 16 August 2017
With all of the key houses now left on the brink of ruin, who will survive and stand tall in the sixth season of the epic fantasy drama.
Episode 1 "The Red Woman"

Ser Davos and the Night's Watch brothers loyal to Jon Snow are trapped at Castle Black.
Episode 2 "Home"

Bran trains with the Three-Eyed Raven. The Night's Watch stand behind Alliser Thorne.
Episode 3 "Oathbreaker"

While Daenerys meets her future, Bran meets the past. Elsewhere, Tommen confronts the High Sparrow, and Arya continues her training.
Episode 4 "Book of the Stranger"

Tyrion strikes a deal, while Jorah and Daario undertake a difficult task. Meanwhile, Cersei and Jaime plot to improve their situation.
Episode 5 "The Door"

Tyrion seeks a strange ally, while Bran's lessons continue. Elsewhere, Brienne goes on a mission, and Arya is given a chance to prove herself.
Episode 6 "Blood of My Blood"

An old face returns. Gilly meets Sam's family. Arya faces a difficult choice. Jaime faces off against the High Sparrow.
Episode 7 "The Broken Man"

The High Sparrow eyes another target. Jaime confronts a hero. Arya makes a plan. The North is reminded.

Available until 16 August
Episode 8 "No One"

While Jaime weighs his options, Cersei answers a request, while Tyrion's plans bear fruit.
Episode 9 "Battle of the Bastards"

Daenerys returns to Meereen. Meanwhile, Jon Snow's army advances as the battle for Winterfell begins.
Episode 10 "The Winds of Winter"

As season six concludes, Cersei awaits judgement, Walder Frey and Jaime celebrate at Riverrun, and winter finally arrives.
Click below to discover more Game of Thrones® seasons
More like Game of Thrones®
Available until 31 Jan 2022

Available until 30 Nov 2017

Available until 23 Aug 2017
The Young Pope

The Young Pope

Available until 31 Jan 2022

Sky Atlantic and Academy Award-winning director Paolo Sorrentino present a landmark series starring Jude Law as the first American pope and his struggle to establish his papacy.

Deadwood

Deadwood

Available until 30 Nov 2017

Timothy Olyphant and Ian McShane star in the uncompromising western, where a diverse assembly of civilians, entrepreneurs and low-life outlaws look for a new life in the lawless town of Deadwood.

Thronecast

Thronecast

Available until 23 Aug 2017

Sue Perkins hosts the companion show to Game of Thrones. With a complement of celebrity guests and superfans, we review, digest and relive the latest goings-on in Westeros.