Uncharted
Streaming
CINEMA MEMBERSHIP
Uncharted
Street-smart Tom Holland is recruited by treasure hunter Mark Wahlberg to recover a fortune lost 500 years ago. Action-adventure based on the hit video game series.
Cinema Membership auto-renews monthly at £9.99, unless cancelled. You can cancel anytime.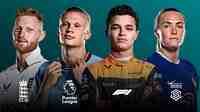 Stream live
Stream sporting greatness
Unmissable events and matches on all 11 Sky Sports channels.
£33.99 £25 a month for 6 months - no contract. Cancel anytime.
Offer ends 24/10/22. Sports Month Membership auto-renews after your 6 month offer at £33.99 a month. No contract, cancel anytime.
Stay connected with unlimited Super Fibre
£22 a month for first 12 months including line rental with a Super Fibre Membership. £5.00 delivery. Price may change during this period.