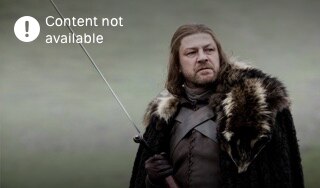 Game of Thrones
®
season 1
Game of Thrones
®
season 1
Game of Thrones® is no longer available.
Game of Thrones® is no longer available.
Sean Bean and a Golden Globe-winning Peter Dinklage are among the stars of this smash-hit fantasy drama from HBO.
Episode 1 "Winter Is Coming"

Lord Eddard Stark is torn between his family and an old friend when he is asked to serve at the side of King Robert Baratheon.
Episode 2 "The Kingsroad"

An altercation between the Stark and Baratheon children threatens to drive a wedge between the two noble houses.
Episode 3 "Lord Snow"

Ned arrives at King's Landing and finds himself mired in political intrigue, as Jon begins his training with the Night's Watch.
Episode 4 "Cripples, Bastards and Broken Things"

Ned Stark investigates Jon Arryn's death, as Viserys learns his sister is not as weak as he thought.
Episode 5 "The Wolf and the Lion"

Ned Stark angers the King by refusing to endorse a dishonourable act.
Episode 6 "A Golden Crown"

As Tyrion employs a risky scheme to escape the Eyrie, Ned Stark makes a shocking discovery about the Lannisters.
Episode 7 "You Win or You Die"

As House Lannister prepares for battle, Ned Stark confronts Cersei about Jon Arryn's death.
Episode 8 "The Pointy End"

As the Lannisters attempt to seize power, Robb Stark calls together his allies and prepares for war in the South.
Episode 9 "Baelor"

As Ned Stark is forced to make a fateful decision, Tyrion finds himself on the front lines and Robb proves himself in battle.
Episode 10 "Fire and Blood"

Robb Stark finds his destiny forever changed and Catelyn confronts Jaime in the season finale of HBO's hit fantasy epic.
Click below to discover more Game of Thrones® seasons
More like Game of Thrones®