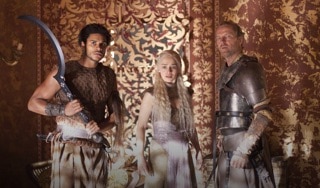 Game of Thrones
®
season 2 episode 7
Game of Thrones
®
season 2 episode 7
Theon's determination to prove his Ironborn status prompts him to embark on a hunt.
Daenerys receives an invitation that could prove useful to her cause, and Jaime Lannister's fortunes appear to change after a meeting with a relative among Robb Stark's captives.
Fantasy drama, starring Alfie Allen, Emilia Clarke and Nikolaj Coster-Waldau.
Click below to discover more season 2 episodes
More like Game of Thrones®