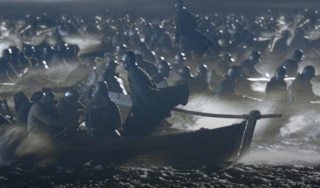 Game of Thrones
®
season 2 episode 9
Game of Thrones
®
season 2 episode 9
Boy-king Joffrey Baratheon's days on the Iron Throne appear to be numbered as Stannis lays claim to his late brother Robert's realm with a naval assault on King's Landing.
The realities of all-out war leave the young tyrant reeling, and it is left to his sharp-witted uncle Tyrion to launch a defensive strategy that could save his family and decide the fate of the seven battle-scarred kingdoms of Westeros.
Jack Gleeson, Peter Dinklage and Stephen Dillane star in an episode written by George RR Martin, whose novels form the basis for the series.
Click below to discover more season 2 episodes
More like Game of Thrones®