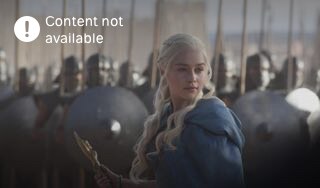 Game of Thrones
®
season 3
Game of Thrones
®
season 3
Game of Thrones® is no longer available.
Game of Thrones® is no longer available.
The war takes its most brutal turn yet, as the few rules that existed are torn up once and for all.
Episode 1 "Valar Dohaeris"

The epic Emmy-winning fantasy drama returns as Jon encounters formidable wildling leader Mance Rayder.
Episode 2 "Dark Wings, Dark Words"

Sansa says too much, Shae asks a favour of Tyrion and Arya runs into a group of outlaws.
Episode 3 "Walk of Punishment"

Tyrion shoulders new responsibilities.
Episode 4 "And Now His Watch Is Ended"

The Night's Watch takes stock and Arya is taken before the leader of the Brotherhood.
Episode 5 "Kissed by Fire"

The Hound is judged by the gods while Jaime is judged by men. Robb is betrayed and Jon proves himself.
Episode 6 "The Climb"

Robb Stark agrees to a compromise with House Frey, while Tywin Lannister tries to strike an alliance.
Episode 7 "The Bear and the Maiden Fair"

Daenerys trades gifts with a slave master and Melisandre reveals a secret.
Episode 8 "Second Sons"

Daenerys meets a mercenary and Melisandre demonstrates her power to Davos.
Episode 9 "The Rains of Castamere"

Edmure meets his bride, and Yunkai stands as a looming challenge to Dany and Ser Jorah.
Episode 10 "Mhysa"

In an epic finale, Joffrey stands up to Tywin, and Dany discovers whether she's seen as conqueror or liberator.
Click below to discover more Game of Thrones® seasons
More like Game of Thrones®