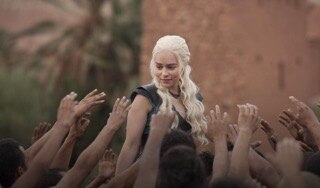 Game of Thrones
®
season 3 episode 10
Game of Thrones
®
season 3 episode 10
The various warring factions of Westeros receive news of the events of the wedding at the Twins.
In King's Landing, Joffrey stands up to his grandfather Tywin, Daenerys discovers whether she'll be remembered as a conqueror or a liberator in Yunkai, and mercy comes from a surprising source in Dragonstone.
Fantasy drama, starring Emilia Clarke, Charles Dance and Jack Gleeson.
Click below to discover more season 3 episodes
More like Game of Thrones®