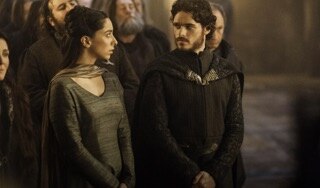 Game of Thrones
®
season 3 episode 9
Game of Thrones
®
season 3 episode 9
Robb and his bannermen gather at the Twins in the northern Riverlands to attend the wedding of Lord Edmure Tully and Roslin Frey, daughter of Lord Walder.
Elsewhere, Jon faces his harshest test to date, Yunkai stands as a looming challenge to Daenerys and Ser Jorah, and Bran discovers a new gift.
Fantasy drama based on George RR Martin's A Song of Ice and Fire novels, starring Richard Madden, Michelle Fairley and David Bradley.
Click below to discover more season 3 episodes
More like Game of Thrones®