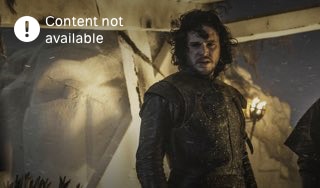 Game of Thrones
®
season 4
Game of Thrones
®
season 4
Game of Thrones® is no longer available.
Game of Thrones® is no longer available.
The quest for power gains deadly momentum, and in Westeros, no one's position is secure.
Episode 1 "Two Swords"

Tyrion welcomes a new guest, and Arya is reunited with an old friend.
Episode 2 "The Lion and the Rose"

While Joffrey and Margaery host a breakfast, Stannis loses his patience with Davos.
Episode 3 "Breaker of Chains"

Tyrion considers his options, while Daenerys chooses her champion.
Episode 4 "Oathkeeper"

Daenerys attempts to balance justice and mercy, while, in King's Landing, Jaime gives Brienne a task.
Episode 5 "First of His Name"

Tywin and Cersei plot the Crown's next move, while, in the north, Jon embarks on a new mission.
Episode 6 " The Laws of Gods and Men"

While Stannis sets sail with a new strategy, in King's Landing, Tyrion faces his father.
Episode 7 "Mockingbird"

Tyrion makes an unlikely ally, and Jon's warnings about the Wall fall on deaf ears.
Episode 8 "The Mountain and the Viper"

Mole's Town receives some visitors, and Tyrion's fate is decided.
Episode 9 "The Watchers on the Wall"

Jon Snow and the Night's Watch face their biggest challenge yet.
Episode 10 "The Children"

Season four concludes and, alongside an unexpected arrival, Tyrion sees the truth in his situation.
Click below to discover more Game of Thrones® seasons
More like Game of Thrones®