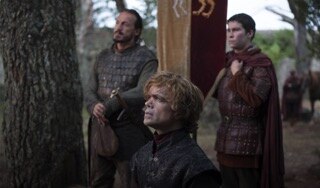 Game of Thrones
®
season 4 episode 1
Game of Thrones
®
season 4 episode 1
The return of the fantasy drama based on George RR Martin's A Song of Ice and Fire series of novels.
Tyrion is sent out to welcome a royal party from Dorn outside the walls of King's Landing, and Jon Snow finds himself on trial at Castle Black over his time with the wildlings and the death of Qhorin Halfhand.
Daenerys heads toward the slave city of Meereen, and Arya runs into a familiar face. Peter Dinklage, Emilia Clarke and Kit Harrington star.
Click below to discover more season 4 episodes
More like Game of Thrones®