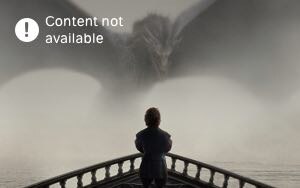 Game of Thrones
®
season 5
Game of Thrones
®
season 5
Game of Thrones® is no longer available.
Game of Thrones® is no longer available.
There are huge shocks in store in the fifth season of the smash-hit fantasy drama.
Episode 1 "The Wars to Come"

Tyrion is presented with a new possibility and Daenerys grapples with her tempestuous dragons.
Episode 2 "The House of Black and White"

Arya arrives in Braavos, Pod and Brienne run into trouble, and Cersei fears for Myrcella's safety in Dorne.
Episode 3 "High Sparrow"

Queen Margaery spends time with her new husband, King Tommen, while fugitive Tyrion and Varys walk the Long Bridge of Volantis.
Episode 4 "The Sons of the Harpy"

While the Faith Militant grow aggressive, Jaime and Bronn head south. Ellaria and the Sand Snakes vow vengeance.
Episode 5 "Kill the Boy"

While Jon recruits the help of an unexpected ally, in Meereen, Dany makes a difficult decision. Elsewhere, Brienne searches for Sansa.
Episode 6 "Unbowed, Unbent, Unbroken"

While Arya continues her training, Jorah and Tyrion run into slavers. Elsewhere, the Sand Snakes attack.
Episode 7 "The Gift"

While Jon prepares for conflict, Sansa tries to talk to Theon and Brienne waits for a sign. Elsewhere, Jaime attempts to reconnect with family.
Episode 8 " Hardhome"

While Arya makes progress in her training, Sansa confronts an old friend. Elsewhere, Cersei faces a struggle.
Episode 9 "The Dance of Dragons"

In the penultimate episode of the season, Stannis confronts a troubling decision while Jon returns to The Wall.
Episode 10 "Mother's Mercy"

In the season finale, Stannis marches while Dany is surrounded by strangers. Plus, Cersei seeks forgiveness.
Click below to discover more Game of Thrones® seasons
More like Game of Thrones®