Everything you need to know
What is NOW, how to get started and how to watch.
How to watch
There's loads of ways to enjoy NOW, watch our video to find out how to watch on your favourite device.
Share with the family by connecting multiple devices to one account.
Choose Smart TV, app, console, desktop and more.
Top features on NOW
Make the most of your membership.
Save your favourite movies and TV shows to watch later.
Download movies, shows and sports straight to your device – and even watch offline.
Whether it's movies, TV or sport - watch live TV or catch your favourite shows on demand.
Stream on over 60 devices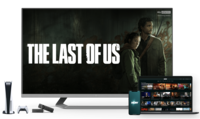 iOS (version 11.2 onwards)
Android (version 5 onwards)
Whatever you're in the mood for.
Join in with a NOW Membership.
Discover unmissable shows on demand, exclusive Sky Originals, US comedies, kids TV and the very best HBO dramas.
Stream the latest blockbusters, Sky Originals and timeless classics plus watch a brand new premiere every day.
Stream all 11 live Sky Sports channels live including Sky Sports Premier League, Sky Sports F1 and Main Event.
Watch new seasons of the best new reality TV shows, plus over 9000 episodes all fresh from the US.
Stream live sport from BT Sport & Premier Sports across your devices.