Succession S3
Streaming weekly
Succession S3
Streaming weekly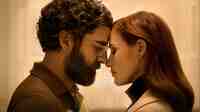 Scenes From A Marriage
Streaming
ENTERTAINMENT MEMBERSHIP
A depiction of love, hatred and desire.
Stream Scenes From A Marriage
Modern adaptation of Ingmar Bergman's classic Swedish series of the same name, focusing on a couple desperate to keep their relationship intact. Jessica Chastain and Oscar Isaac star.
Judas and The Messiah
Streaming
CINEMA MEMBERSHIP
The true story of betrayal and Black Power.
Stream Judas and The Black Messiah
Betrayal. Blackmail. Black Power. The true story of how the FBI forced Bill O'Neal to become an informant in the Illinois chapter of the Black Panther Party. Starring Daniel Kaluuya with an Oscar-winning performance and LaKeith Stanfield.
Stay connected with unlimited Super Fibre and anytime calls*
£22 a month for first 12 months including line rental with a Super Fibre Membership. £5.00 delivery. Price may change during this period.