Watch instantly on loads of devices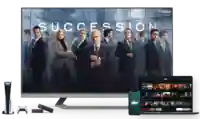 Available on over 60 devices, simply choose the membership you need, sign up, and start streaming.
Register up to 6 devices and watch on 1. Upgrade to Boost to watch on 3 at the same time.
iOS (version 11.2 onwards)
Android (version 5 onwards)
Watch the world's best shows, movies and sports.
Choose Smart TV, app, console or desktop.
Cancel your membership anytime.
Share with the family by connecting multiple devices to one account.
Watch brilliant entertainment on 3 different screens with Boost.
Never miss out. Download movies, shows and sports straight to your smartphone – and even watch offline.